In 2010, Jiangsu's textile and garment industry took the lead in breaking through the trillion-dollar production value threshold to reach 10,521 billion yuan, which has doubled from the end of the "Tenth Five-Year Plan" period, and has earned US$35 billion in export revenue, an increase of over 80%, and a profit of 55.6 billion yuan. It has increased fourfold. However, this year, the province with a trillion-dollar output value has begun to change its thinking on the development of the industry, so that the growth rate of GDP will gradually decline and efforts will be made to achieve a soft landing.

From January to May of this year, the total industrial output value of 8204 textile enterprises above designated size in Jiangsu Province increased by 23.67% year-on-year, a growth rate lower than the national textile industry by 6.48 percentage points; the profit increased by 45.63% year-on-year, and the growth rate was 2.79 percentage points higher than the national average. From the perspective of the output of major products, the increase in the output of Jiangsu's textile and clothing industry during the first half of this year was lower than that of the national total output. The slowdown in output value and the increase in profits have led Jiangsu's textile and apparel industry to pass structural adjustments to the industry and to lay out the latest trend in the "12th Five-Year Plan".

For a long time, the manufacturing and manufacturing enterprises in Jiangsu textile and garment industry have occupied a considerable proportion. At present, these manufacturing and manufacturing enterprises are stepping up efforts in R&D, design and marketing, and gradually transforming from simple manufacturing manufacturers to brand operators.

At the 13th Jiangsu International Fashion Festival, which recently ended, "brand Jiangsu, fashion Jiangsu" became the main theme. Leading brands such as Yalu, Red Bean and Yiyi, led by Sunshine, Bosideng (Quotes, Information, and Comments) led the Chinese brand names like Ashi Dayton, Fa Shi Fei, Lanzi Xiu, and Bai Fu Lun to show off. The latest achievements in brand building and technological innovation. Chairman of the National Textile and Apparel Chamber of Commerce and the board of directors of Bosideng International Holdings Co., Ltd. Gao Dekang believes: "Only by continuously improving the creative level of apparel R&D and creating a brand culture and personality brand that has infiltration into the target consumer group, can we enhance our own brand. The influence and reputation of both international and domestic markets are moving towards high-end brand products with high design content and strong fashion ideas."

The development of a traditional brand agency into a spa model that wins with "fast" is a profitable point for Aishton brand marketing. This Ashdod men's wear that has earned enough attention from the industry in recent years focuses on "focus area, focus on products, focus on customers, and key breakthroughs" as a development strategy, and implements one-to-one control from brand operation, product planning to production and retail. The mode of operation has quickly achieved the chain scale, brand efficiency, and rapid and stable standardization of direct management stores. Within a few years, the number of chain stores has grown to several hundred, and this has become a vivid microcosm of the transformation and upgrading of independent brands in the garment industry in Jiangsu. Branded marketing made Ashidun men's apparel fully emboldened. "Based on Jiangsu, deep-rooted East China, and then paved the way for the construction of the national market." Gong Zheng, chairman of the company, said that in 2015 we will open 2,000 chain stores and in 2020 we will open 5,000 chain stores. .

According to Tang Xiaodong, a member of the Standing Committee of the Changshu Municipal Party Committee and the Party Committee of Yanshan Town, in the transformation and development, many industry advantages in the past have ceased to exist. Changshu's enterprises realized this earlier, fully tapped new potential advantages, and actively transformed and upgraded. Xia Xiaoyang, deputy mayor of Wujiang City, said that with the increase in the cost of raw materials and labor, the industrial chain from textiles, printing and dyeing to clothing has been restricted. Only insisting on innovation-driven, increasing investment in scientific and technological R&D, and increasing value-added products and industries The competitiveness, differentiation, functionalization, high-end, and green roads can make the traditional textile industry more and more brilliance in technological innovation, transformation and upgrading.

Xie Ming, president of the Jiangsu Textile Industry Association, said: "Jiangsu textile and apparel industry has proposed to create new advantages in Jiangsu during the 'Twelfth Five-Year' period, namely, efficiency, quality, brand, fashion, talent, and environmental advantages. The macro-policy environment provided favorable conditions for the continuous innovation and successful hosting of the Jiangsu International Fashion Festival, and also accelerated the transformation and upgrading of exhibitors and their core competitiveness."


man's wear underwear,love life ,love ourself, wear comfortable and casual, man`s underwear made by a series of processes such as yarn and knitting,man`s underwear has Quick Dry, seamless. more young man like wear man's seamless underwear.
Description of man`s clothing
Style:comfortable and casual
Service: OEM/ODM service
Feature: Anti-Bacterial, Anti-Static
Size: customized size
Color: picture color customized
MOQ: 3000pcs
Payment: L/C,D/A,D/P,T/T,Western Union,MoneyGram payments
Material: spandex/cotton
Delivery time: 45-60
Packing: 1pcs get into one polybag,12pcs get into one big polybag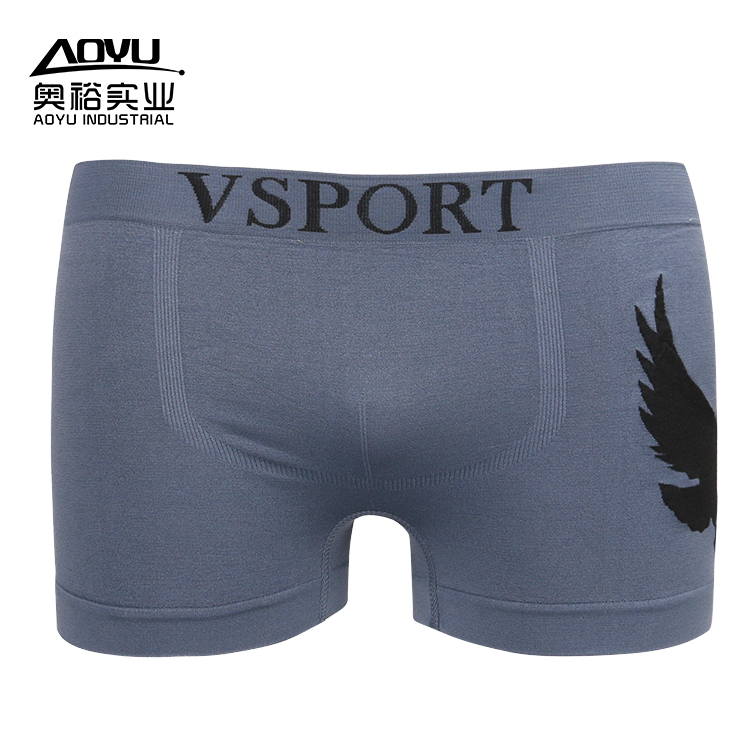 FAQ:
Q: Are you a manufacturer or a trading company?
A: We are a professional underwear manufacturer,which has been exported for nearly 12 years.
Q: Can you provide me with a sample?
A: Yes,we can provide you with samples,you need to pay for shipping.
Q: What is the way of payment?
A: :more money is 30% deposit,and 70% is paid by wire transfer before delivery.
Man'S Seamless Underwear,Seamless Men Underwear,Medium Seamless Underwear,Cotton Seamless Underwear
Shantou City Aoyu Industrial Co., Ltd , http://www.staoyu.com