The long boots have been popular for a few seasons. There are still plenty of fans. However, if you look closely, you will find that knee-length boots are not the protagonists. Those who are handsome or neat or adorable and short boots are the winter season. The real strongest force, from the T-Tai to the Main Street, you can easily get to their shadows, and more importantly: Boots let us truly enjoy the fun of wild, whether or not you are a formal occasion, whether or not you are long-legged beauty .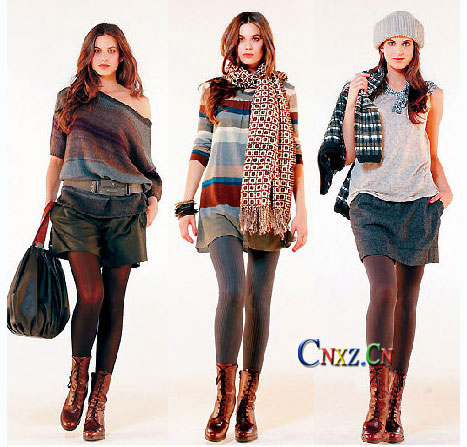 ● style heart
Careful people will find that pantyhose is very popular this season, as long as there is no cold to stand the point, beautiful women would rather give up the wind jeans, generously wrapped in thin legs to show people. Naturally, those who wear pantyhose dress, and ultimately those leather boots.
Short, bare ankle, long just just legs and all kinds of boots became the most popular single product this season. Compared to the overly exaggerated or casual sense of the long boots, the booties appear to be low-key but more formal, more popular texture, and easier to show the wearer's personality and taste.
In fact, seemingly unadorned booties have been used by many designers such as Jean Paul Gaultier and Others since the late 1980s. Evolving to the present, the basic style has not changed, and the quality, style, and matching of colors have given rise to more and more fashion fans. Looking back on many occasions, the actresses at home and abroad have invariably selected booties to show their legs. This fully shows that for those with a good figure, although the booties seem to be low-key, they are a blatant thing in their bones—it Can maximize the beauty of leg lines.
The short boots this winter pay more attention to changes in style. In addition, the use of materials is also more intelligent. The most important point is to polish all kinds of leather out of a soft texture, or perform functional stitching to make wearing more comfortable.
Alternative booties
The reporter saw that among the hot selling women's shoes styles, booties occupy a large part, and its style is also more than the average shoes, in addition to practical black, brown and simple models, many brands have introduced a unique design, distinctive personality alternative Short boots. For example, in the "Beauty Shoes" counter, casual boots with wide laces are very eye-catching, the same leather texture, but with a semi-sports design and comfortable slope, and some also joined the popular elements of the season, such as The metal-colored leather stitching is very rich in space ideas; those red-cut boots that are hollow on the side are artistically added to the classic mature style.
· Domineering full-tip shoes Queen Fan children
· The wild king of sandals is it
· Visual stretch leg length also has a pair of V-port shoes
· Danbyo shoes trend | summer to this pair of sandals each way
·Summer came to this pair of sandals fired all the female stars are
·Spring and summer shoes fashion shoe necessary color
Can't you know what to wear in canvas shoes except for Converse?
Erika Jayne appeared in New York in New York
·Corthay Fashion Men's Wear One Week
·The two spokespersons of CONVERSE will perform with CHUCK 70
Plastic Sheet ,Abs Double Color Board,Double Color Board,Engraving Board
Shansu Extrusion Equipment Co., Ltd. , http://www.plastics-extrusion.com